1994-2003 7.3 Powerstroke
7.3 Powerstroke
Using Sniper Delta Force and Power Hungry Minotaur software, Gearhead Automotive Performance has developed killer programs for the 7.3 Powerstroke.Completely stock truck or aftermarket turbo and injectors? No Problem!
We can handle these and anything in-between as well as radical combinations with the largest injectors.
Do you want programming that gets excellent mileage and acts like a stock truck until you pin the pedal? Do you want programming that doesn't belch smoke every time you try and merge into traffic? We can do that!
7.3 Powerstroke Dyno results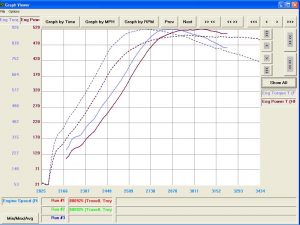 (Click on dyno sheet for higher resolution)
7.3 Liter Tune Descriptions
Default files available for 99.5-2003 7.3's with stock injectors for 6 position chips (custom files by request):
Heavy Tow
Towing up to the trucks capacity but with better economy than stock
High Idle
Aids warm-up and running accessories with heavy electrical demand or better air conditioner performance in the summer time on long periods of idling
Tow/Economy
Gains about 40 HP over stock can usually tow up to 10,000 lbs but user should watch Exhaust Gas Temperature (EGT) on long hills if towing 7,000 lbs and above.
Street Muscle
Gains 80-100 HP over stock and runs about 1300 degrees max with an exhaust and intake installed
Street Fury
Good for extra passing power (must watch EGT) and sprints from stoplight to stoplight without belching tons of smoke
All Out
This file definitely scoots with a stab of the throttle, with power gains over tune 5. This does depend on the condition of your High Pressure Oil Pump (HPOP) and its availability to produce enough volume to the injectors.
Default files available for 94-03 7.3's with single shot injectors (custom files by request):
Heavy Tow
High Idle
Stealth
Tow/Economy
Street
All Out
A very happy customer with his Gearhead Automotive Performance package made 520RWHP! This package included 238cc hybrid injectors, Garrett 38R Turbo, and Custom Gearhead Chip. Inquire about a package deal on these components.
**PLEASE NOTE: revisions to your tunes are available for 30 days after purchase – after which, you will need to purchase a tune revision package. Thank you!**
1994-2003 7.3 Powerstroke

7.3 Tune Revision

Please follow steps to receive a tune revision:

1. Purchase the 7.3 Tune Revision and complete the order

2. Fill out the tuning form after the order is complete with the new list of mods. (For vehicle strategy just enter in NA. We should already have it on file)

Additional Ordering Information – Under normal circumstances custom tunes are delivered via email within two business days of completing the custom tuning sheet.

The custom tuning sheet link is downloadable after you complete your purchase. This is how we collect the vehicle and tuner data necessary to write your custom tunes. To eliminate delays please whitelist @gearheadautomotiveperformance.com email addresses in your email client so your spam filter does not block delivery of emails from us.

3. Keep an eye on your email for the tune files. (Typical turn around for revisions are 2-3 business days.)