2015-2017 Mustang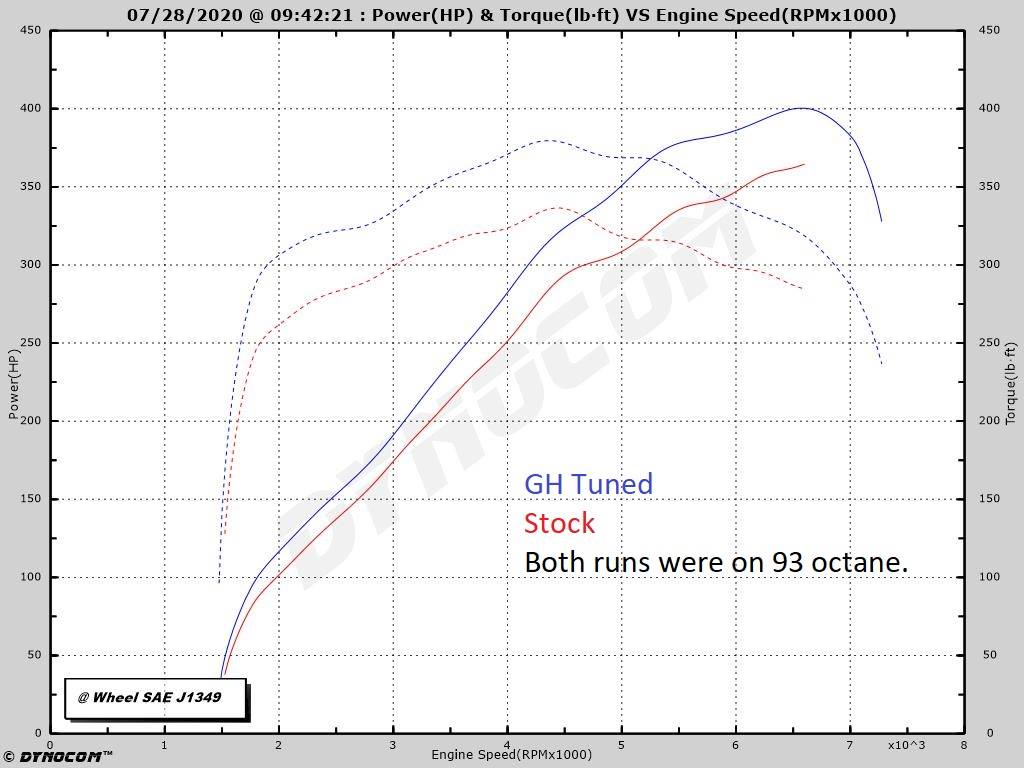 Where We Differ
Gearhead tunes are built with great care to both extract maximum as well as do it with an unheard level of safely. We don't look for every last horsepower, we look to enhance every part of the driving experience where the factory fell short. On applications that support our auto-octane feature, the customer no longer needs to worry about driving their performance tune on a long family trip or other large distance where the quality of the premium fuel is possibly suspect. Our tuning will allow for a boost reduction all the way down to stock levels if the driver decides to or accidentally puts 87 octane in the tank. No other tuner offers this feature (that we are aware of). With Gearhead tunes, you don't get a tune that is only good for the track, or cruising, or maximum fuel economy. With Gearhead, you get a balance of everything that enhances the driving experience.
Development
Gearhead isn't just another tuner throwing value files into the mix and calling it custom tuning, we drive our ecoboost vehicles every day and will accept nothing less than perfection for ourselves and our customers' vehicles. We have tried every combination of the usual parts and can inform the customer of what works and what doesn't and we have even developed parts of our own.
Gearhead is in development of specialty parts like the first proven to work Intercooler for the Taurus SHO/Flex/Police Interceptor with the 3.5 Ecoboost. The industry has had 8 years to do something to fix one of the biggest performance impediments to these vehicles and couldn't make it work, but Gearhead has done it and will blow everyone away with this product's anticipated release in summer 2018. Also, our proprietary, drop-in Raptor turbo package has massive power gains without losing anything down low or causing any drivability issues. If there is something not offered on our website, just ask. We carry almost every brand of parts and can build a custom package to allow you to achieve your power dreams without breaking the bank or making your vehicle less useful than it was when it was stock.
**PLEASE NOTE: revisions to your tunes are available for 30 days after purchase – after which, you will need to purchase a tune revision package. Thank you!**
2015-2017 Mustang

Mustang Tune Revision

Please follow steps to receive a tune revision:

1. Purchase the Mustang Tune Revision and complete the order

2. Fill out the tuning form after the order is complete with the new list of mods. (For vehicle strategy just enter in NA. We should already have it on file)

Additional Ordering Information – Under normal circumstances custom tunes are delivered via email within two business days of completing the custom tuning sheet.

The custom tuning sheet link is downloadable after you complete your purchase. This is how we collect the vehicle and tuner data necessary to write your custom tunes. To eliminate delays please whitelist @gearheadautomotiveperformance.com email addresses in your email client so your spam filter does not block delivery of emails from us.

3. Keep an eye on your email for the tune files. (Typical turn around for revisions are 2-3 business days.)