2003-2007 6.0 Power Stroke
6.0 Liter Tune Descriptions for Stock Nozzle Injectors:
***THE CUSTOM TUNE FILES DO NOT INCLUDE ANY EMISSIONS DELETES. THE CUSTOM TUNING WILL REQUIRE A FUNCTIONAL EGR VALVE. RUNNING CUSTOM TUNING WILL ALSO DISABLE ANY EMISSIONS DELETE CAPABILITY THAT CAME PRELOADED ON THE TUNING DEVICE.***
**PLEASE NOTE: WE DO NOT TUNE FOR OPEN OR CLOSED VANE AT IDLE**
8000 Lb Tow (8K Tow)
This tow file is rated for 8000 pounds of towing without being studded. Studded trucks can tow 13000 pounds with this file.
Unlimited Tow
Since this file maintains stock fuel parameters, it can tow whatever you want while giving better shift firmness than stock.
Street Race LITE – (SRL-)
Same shifting of SRL series files, but the power level is between SRL and 8k tow files. A perfect "in between" daily file.
Street Race Lite (SRL)
Awesome daily driver file (no towing) with butt kicking response, low smoke, and outrageous power. The best shifting all-around street file on the market period! Typical gains of 1-3 MPG have also been reported with this file.
Studded SRL (SRL+)
The one up to SRL for studded trucks. Simply adds boost over SRL for 10-15 more HP and 50-60 more FT/LBS of torque.
SRLXX
SRL+ have you craving more? This is the file for you!
6 Liter Tune Descriptions for Larger than Stock Nozzle Injectors:
XX Tow
This tow file is set up for any after market injectors while trying to keep the EGT's (Exhaust Gas Temps) down.
XX Reduced Fuel
With this file it add more boost and fuel for a more powerful street tune while maintaining drivability.
XX Full Fuel
This file will be similar to the XX Reduced Fuel until you put your foot to the floor. Then you need to be ready for what we call "FULL FUEL". Go fast and eat cornbread!
Here's an example of what Gearhead can do for your truck. Here are runs on a stock-injector 6 liter with just an exhaust. This depicts Stock versus our "8K Tow" and "Street Race Lite" files.
6.0 Powerstroke Dyno results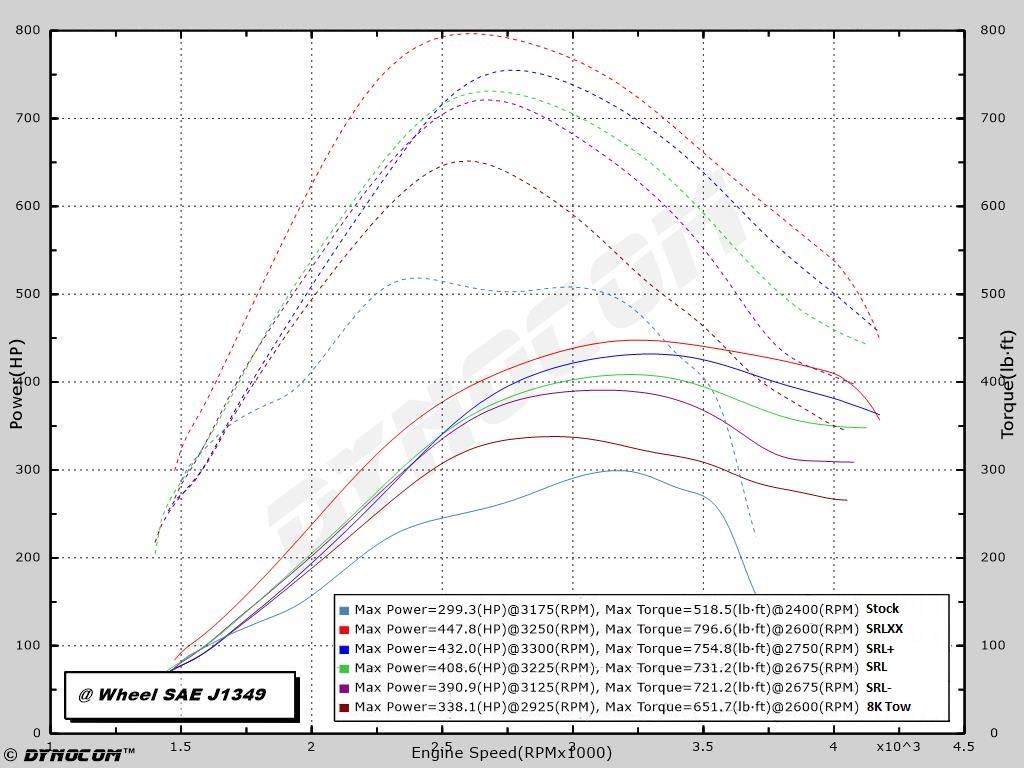 **IMPORTANT NOTE: Tuning revisions are available up to 30 days after your initial purchase – after 30 days, you will need to purchase a tune revision package. Thank you!**
Bullet Proof Diesel products

Bullet Proof Diesel Billet Water Pump, Ford 6.0L Diesel

Need help with your production date? If you have a 2003 you are in the 2003-2004.25 production date. If you have a 2005 or newer, you have a 2004.25 and newer production date. If you have a 2004 model you need to check your VIN code to determine your production date. You might want to measure your impeller size before ordering to ensure the proper size and fitment.

A sample VIN code is: 1FTRW21P2 4EB10150. In the middle of the VIN code, you see the digits "4EB". The 4 means that it was a 2004 model year. The "E" denotes which production plant built your truck. In this case, E is for Kentucky. Lastly, the "B" is the start of the sequence number (the last 6 digits of the VIN). Some early 2004 models have a "4EA" code. The "A" denotes the early build and most likely is a 2003-2004.25 production date. A "B", "C", "D" or more all denote later model 2004 builds with 2004.25 and newer production dates.